Johann Amandus Winck
(Rottenburg am Neckar 1754 - 1817 Munich)
Two Flower Still Lifes, Munich 1794
Oil on copper, 39.9 x 31.7 cm each
Signed, dated and inscribed at lower left Joan. Amand. / Wink. pinx. /Monachii 1794. (left image) and lower right Joan Amand. Wink pinx /1794. (right image)
Provenance:
House of Schönborn, Schloss Weissenstein, Pommersfelden, inv. nos. 631 and 632[1] Private collection, Munich
Literature:
Theodor von Frimmel, Verzeichnis der Gemälde in gräflich Schönborn-Wiesentheid'schem Besitze, Pommersfelden 1894, p. 202 f., nos. 631 and 632[2] Hugo Hantsch and Hanns Fischer, Schloss Weissenstein ob Pommersfelden der Grafen von Schönborn. Führer und Gemäldeverzeichnis, Bamberg c.1938, p. 28
Ulrich Thieme and Felix Becker, Allgemeines Lexikon der bildenden Künstler von der Antike bis zur Gegenwart, XXXVI, 1947, p. 58
Gerhard Woeckel, 'Der Stillebenmaler Johann Amandus Winck', in Kunst in Hessen und am Mittelrhein, Schriften des Hessischen Museums, 3 (1963), p. 75 and p. 85, nos. 18 and 19, both repr.
Gerhard Woeckel, 'Neu entdeckte Stilleben des Münchener Malers Johann Amandus Winck (1754-1817)', in Kunst in Hessen und am Mittelrhein, 13 (1973), p. 55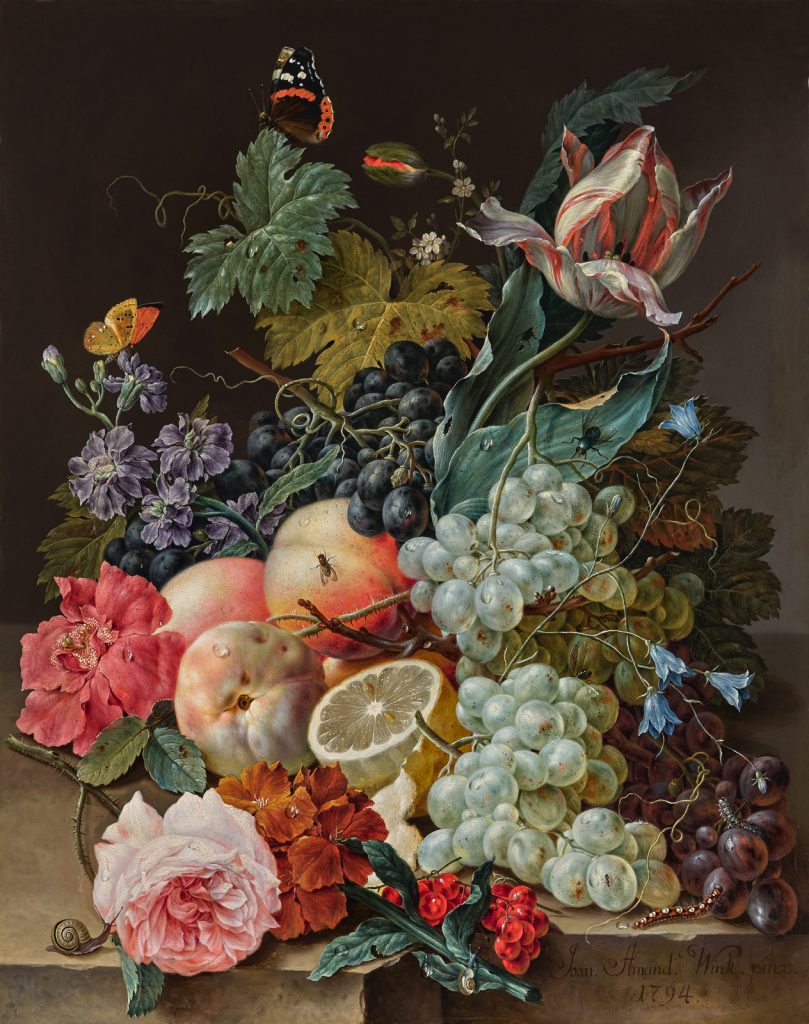 Johann Amandus Winck ranks as one of the leading German still-life painters of the late eighteenth and early nineteenth centuries. Little is known about his life. He began his artistic training under his father, Johann Chrysostomus Winck (1725-95), who was court painter to the Prince-Bishopric of Eichstätt. Johann Amandus continued his studies in Munich under his uncle, Thomas Christian Winck (1738-97), court painter and official scene painter to the Electorate of Bavaria. As early as 1777 Johann Amandus produced four Gobelin designs for the Bavarian Court – a commission he almost certainly owed to his uncle's influence at court. In the 1790s, uncle and nephew are known to have worked together on the completion of a fresco scheme.
Winck took up still-life painting at an early age. He was a specialist in Frucht- und Blumenstücke – still lifes combining fruits and flowers. But he also produced breakfast and hunt pieces and still lifes of vegetables. Many of his still lifes were conceived as pendants and almost all are signed and dated. In his later career a stream of courtly commissions were lavished on him. Two of these were the important supra porte which he executed for the Munich palaces of Nymphenburg and Schleißheim in the 1790s.[3]
German eighteenth-century still-life painting owed an important debt to the influence of Dutch seventeenth-century masters. For their own opulent compositions many German painters like Johann Martin Metz (1717-89), Caspar Arnold Grein (1765-1834) and Johann Amandus Winck drew on the sumptuous arrangements of predecessors like Abraham Mignon (1640-79) and Jan van Huysum (1682-1749), whose works could be studied in Munich's princely collections. It is not inconceivable that Winck received tuition from Antwerp-born Peter Jacob Horemans (1700-76),[4] painter to the Bavarian court. This is strongly suggested by the parallels his work shows with the compositional schemes deployed by Horemans in his still lifes, many of which were also composed as pendants.
The present two still lifes are executed in horizontal format on copper. They are unusually well preserved and are fine works from Winck's most creative period. Records dating back to 1894 already cite them in the holdings of one of southern Germany's most distinguished art collections – with the Counts of Schönborn at Schloss Weissenstein in Pommersfelden. Commenting on the present two still lifes, Gerhard Woeckel notes: These two certainly contributed more than their due to the outstanding contemporary fame Wink so deservedly enjoyed.[5]
Winck depicts a mix of Mediterranean fruits like the black grape, the white grape, the lemon mingling with local produce like the strawberry, the plum, the apricot, the blackcurrant and a variety of nut. The fruits are elegantly combined with flowers such as the flamboyant parrot tulip, the rose, the delicate blue forget-me-not and the dog rose. Winck complements the Früchte und Blumen arrangement with the addition of strikingly realistic trompe-l'oeil effects – tiny snails, flies, bees, beetles, caterpillars and varieties of butterfly.
These two important flower still lifes occupy an outstanding position in German eighteenth-century still-life painting. A further version of the pendants on canvas, also dated 1794 and in slightly smaller format, is recorded. However, in terms of quality they cannot compete with the present two flower pieces.[6] In Winck's virtuoso still lifes the tradition of southern German Baroque still-life painting was to reach its zenith.
---
[1] Schloss Weissenstein was built between 1711 and 1718 as a private summer residence for Lothar Franz von Schönborn, Prince Bishop of Bamberg and Elector of Mainz, in Pommersfelden, near Bamberg.
[2] Frimmel states: Fehlt im Katalog 1857. 1893 in Wien [Missing in the 1857 catalogue. In 1893 in Vienna].
[3] See Gerhard Woeckel, 'Der Stillebenmaler Johann Amandus Winck', in Kunst in Hessen und am Mittelrhein, Schriften des Hessischen Museums, 3 (1963), pp. 70-106; id., 'Neu entdeckte Stilleben des Münchener Malers Johann Amandus Winck (1754-1817)', in Kunst in Hessen und am Mittelrhein, 13 (1973), pp. 53-8.
[4] See Woeckel, 'Unbekannte Werke des Münchener Malers Johann Amandus Winck (1754-1817)', in Weltkunst, 44 (1974), p. 1233.
[5] Woeckel, 1963, op. cit., p. 75.
[6] See Woeckel, 1973, op. cit., p. 55 and p. 58, nos. 1 and 2, both repr.