Bernard Durin
(Nice 1940 - 1987 Paris)
Green tiger beetle (Cicindela campestris)
Watercolor and mixed media on white cardboard, 65 x 50 cm
Signed with the artist's monogram BD (in ligature) lower right
Literature:
Bernard Durin and Gerhard Scherer, Käfer und andere Kerbtiere, Munich 2013,
no. 38
The French graphic designer and illustrator[1] Bernard Durin first came under the spell of the insect world in 1972 while walking in the Provençal countryside. By the time of his death in 1988 at the age of only forty-eight he had produced an important body of work consisting of large-format watercolors depicting beetles and other insects. His approach to the subject shows his affiliation with the great European tradition of insect depiction that began with Albrecht Dürer (1471-1528) and was carried forward by Joris Hoefnagel (1542-1601), Pieter Holsteijn the Younger (c.1614-73) and Maria Sibylla Merian (1647-1717).
Born in Nice in 1940, Durin studied in Paris from 1958 to 1960, training at the Ecole Estienne, a prominent art and design school, and then in the studio of the poster designer Paul Colin. He worked for a time as a graphic designer and illustrator for a number of different magazines and publishers and in 1972 began to specialize in 'portraits' of insects. He discovered many of these insects on his walks in the Saint Baume mountain range in southern Provence. Other, more exotic models came from the archives of the Entomology collections at the Musée national d'histoire naturelle in Paris. He worked with a magnifying glass and a size 00 watercolor brush, taking about three weeks to complete each insect portrait. Successful solo shows in Paris and Munich introduced his work to a wider circle of connoisseurs and collectors. The first edition of his book Käfer und andere Kerbtiere [Beetles and other Insects] was published in 1980. In 1983, the Musée national d'histoire naturelle commissioned him to paint three insect watercolors on vellum for its permanent collection.
Durin's spectacular, large-format portraits of single insects combine a traditional approach to scientific illustration with the heightened clarity and visual complexity of photorealism, a style that is sometimes likened to American Pop Art. Beetles just a few millimeters long take on the character of intriguing, larger-than-life creatures from another world.Found in central Europe, the green tiger beetle (Cicindela campestris) is a smaller, sun-loving insect only 10-15 mm long. The eyes are conspicuously large and protuberant. The legs and sides of the thorax exhibit a striking, iridescent purplish bronze. Durin has captured each tiny hair on the insect's legs with meticulous precision. Green tiger beetles fly well, and are fast-running and predatory. They hunt other insects and spiders, and are quick to catch and devour their prey with their powerful biting jaws.[2]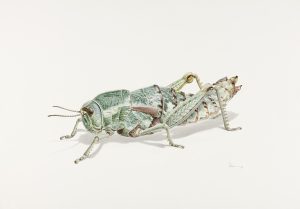 In this watercolor of an 'elephant grasshopper' (Pamphagus elephas) Durin achieves remarkably delicate shifts in tone. His portrayal of the insect's exoskeleton with its chitinous cuticle of overlapping plates has a powerful three-dimensionality. Tiny nodules and ridges have an almost tactile quality. This species of grasshopper is usually large or very large (95-110 mm), stout and rather squat. Found in northern Africa, it prefers dry habitats. In both sexes the wings are usually reduced and the insects are crawlers.[3] Read more
---
[1]For details of Durin's biography, see Allgemeine Künstlerlexikon (AKL), XXXI, 2002, p. 202; Bernard Durin and Gerhard Scherer, Käfer und andere Kerbtiere, Munich 2013, p. 152.
[2] Durin and Scherer, op. cit., 2013, p.105.
[3] Ibid, p. 64.