Antonio Senape (Rome 1788 - Naples after 1853)
A Travel Album with Views of Naples, Rome and northern Italy
Pen and grey, brown and blue ink, many of the views bi-chrome, on thin translucent paper
Sheets varying in size between 210 x 320 mm and 220 x 330 mm
The endpaper inscribed Elisabeth Dawton / Naples 1853 / drawings by Antonio Senape / Strada S. Maria in Portico / Chiaja
Each view bearing a precise topographical annotation in pen and ink
Provenance:
Private collection, California
Surprisingly little is known of Antonio Senape's life[1] even though he was undoubtedly one of the most prolific vedutisti working in Italy in the first half of the nineteenth century. Senape lived and worked in Naples for most of his life, like his contemporaries Giacinto Gigante and Achille Vianelli. His date and place of birth –Rome in the year 1788 – have only recently been established. He is known to have moved to Naples at some point between 1815 and 1818. His earliest-known views are dated 1818 and depict Neapolitan motifs. His meticulously annotated drawings and his travel albums indicate that he lived in Chiaia, the waterfront district of Naples, moving house a number of times. In an inscription elsewhere in one of his albums Senape describes himself as an artist born in Rome, and identifies himself as a landscapist, restorer and teacher of pen-and-ink drawing.
Senape's albums can be understood as a form of travel journal designed to provide a visual record of his patron's travels on the Grand Tour. Each album would document all the stages on the Tour in sequence in much the same way that a modern photograph album would record the chronology of a trip. A patron would select the views marking the marked the stages of his/her journey from the vast catalogue of views that Senape had in stock. Today, a number of these albums documenting the most important stages on the Grand Tour and containing Swiss motifs and northern, central and southern Italian views are preserved. The best-known album, dated 1829, was long attributed to JMW Turner.[2] It is now in a private collection in Naples.
Annotations on the endpaper of the present album indicates that it was compiled as Grand Tour souvenir first, for a tourist named Elisabeth Dawton travelling in 1853. The drawings have captions and annotations which enable the viewer to identify the landscapes and cities they depict.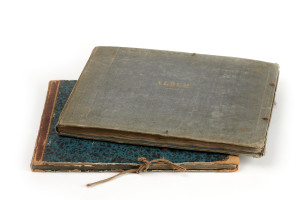 The journey begins in Naples and goes on to central and northern Italy with stops in Portici, Ischia, Capri, Sorrento, Pompeii, Salerno, Paestum, Itri, Fondi, Terracina, Rome, Perugia, Florence and Milan.[3] The album contains fifty-one drawings, two of which are double-page views.
Senape was extremely meticulous in his rendering of architectural and landscape detail. But as his drawings show, he also emphasized the depiction of Italian everyday life. His practice was to utilize single figures and groups of figures as recurrent staffage motifs, each time making minute alterations – a method that allowed him to work with considerable economy. It is not improbable that he used optical instruments, perhaps a camera ottica or a prospectograph to achieve maximum perspectival accuracy, particularly when making wide double-page panoramas. His use of different-coloured inks heightens the impression of volume and pictorial depth.
---
[1] See Leonardo di Mauro,
Cento disegni per un Grand Tour del 1829. Napoli (e dintorni) Sicilia, Roma e Italia nelle vedute di Antonio Senape
, Naples 2001. [2] See di Mauro, op. cit., pp. 9-10. [3] Naples and environs: S. Lucia, Il Museo Borbonico, Palazzo Reale, La Palma di Mergellina, La Sanità, Chiesa del Carmine, Palazzo Reale di Napli / e il teatro S. Carlo, La Floridiana / Vomaceo, Napoli. Sopra Posilippo, Strada di Posilippo, La Villa Reale, Strada S. Carlo a Napoli, Strada di Puzzuoli, Puzzuoli dalla parte di Napoli, Lago di Agnano, Tempio di Serapide, Puzzuoli (two views), Tempio di Venere a Baja, Lago Fusaro, Campi Elisi, Lago d'Averno, Piazza di Castellamare, Il Ponte di Chiaja / in Napoli, Vico, Lago Lucrino - Puzzuoli, Puzzuoli / Jan. 1853. Ischia: Castello d'Ischia. Pompeii: Strada dei Sepolchri - Pompeii. Capri: Marina di Capri, Porto di Anacapri, Anacapri da Castello / Tiberius a Capri. Sorrento: Sorrento, Piazza di Sorrento. Amalfi: Cappuccini. Amalfi, Cappuccini di Amalfi. Salerno: Veduta di Salerno, Chiesa di S. Pantaleone a Ravello. Paestum: Tempi di Pesto. The route to Rome: Veduta di Itri, Veduta di Fondi, Terracina, Avanzi della Via Appia presso Terracina. Rome: Il Foro Romano preso dagli Orti Farnesiani / in 1832, Tempio della Concordia / e il foro Romano / d. Maj I. 1832, Ponte S. Angelo a Roma, Piazza delle Quattro Fontane / in Roma, Piazza Navona in Roma. The route north: Piazza di Perugia, Firenze da S. Miniato, Milan.